Zelia™² 5-in-1 Modular Travel System
Zelia™² 5-in-1 Modular Travel System
$449.99
Regular Price
$449.99
Ready for Today. Every Day.
Feel free to go wherever you want, whenever you want with the Zelia² Travel System.
5-in-1 Strolling System

The Zelia² stroller is lightweight and stylish, and its 5 modes of use deliver the utmost in comfort. Baby will rest soundly as the carriage mode fully reclines. As baby grows, carriage mode switches easily to a toddler seat. Both the carriage and stroller seat modes are parent- or world facing.
New and Improved

The stroller's recline adjuster is now located at the top of the seat with a lift lever to easily adjust the seat angle. To close the seat – press a button, lift and fold. Then there's the narrower frame that allows for enhanced mobility, all while creating a larger seat for more space as your child grows.
Everyday Comfort

The expanding canopy and flip-out visor protect baby from sunlight, and the peek-a-boo window lets you stay connected. There's plenty of storage for personal items and accessories in the spacious basket. The moveable handle raises or lowers to the best height. Once you and baby have finished your stroll, it folds effortlessly and stands upright.

Safety, Comfort, and Style

Baby will enjoy riding in the Mico 30 infant car seat, featuring superior comfort and safety from 5 to 30 pounds. It's one of the lightest infant car seats, and easy for parents to carry with a contoured handle. The Cozi-Dozi™ head insert provides extra support for infants. Its expandable canopy with flip-out visor offers UV protection when needed. The seat pad removes easily and goes in the washer and dryer for a quick clean. It also includes an adjustable base with LATCH for a better fit in your car.
Ride Pure, Feel Cosi

To protect your child in a way that's both pure and cozy, the Mico 30 features PureCosi™ fabrics made without wool or added fire retardant treatment that are machine washable and dryer safe.
Your little one will ride comfortably, taking in the sights while you enjoy the everyday luxuries the Zelia² Travel System provides.
Read More
Item Number:
UPC Number:
Weight Class:
Free ground shipping on all MaxiCosi.com orders! Orders placed after noon EST will ship on the next business day. Returns are accepted within 35 days of delivery. For additional details,
click here
.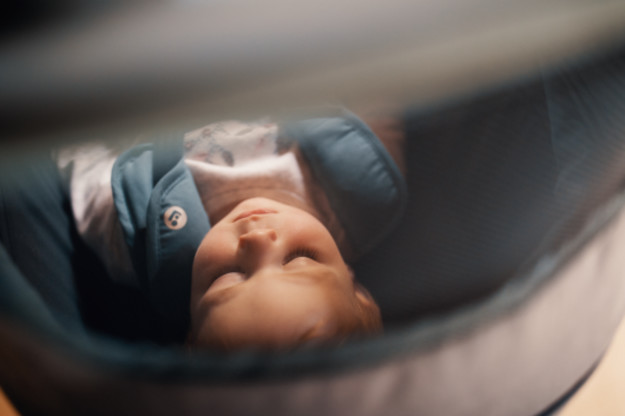 Reversible Carriage
Full recline gives babies a comfy ride from birth in both rear- and forward-facing positions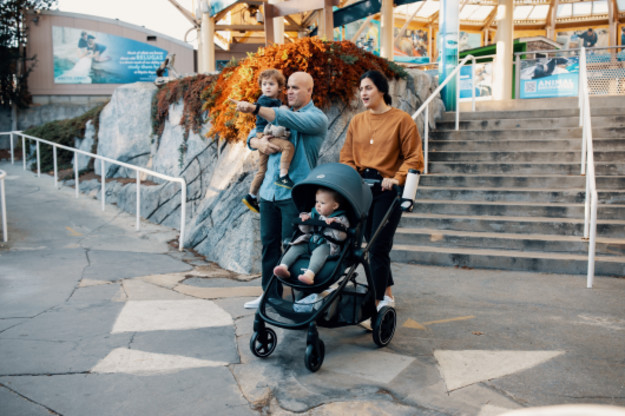 Reversible Seat
Rear-facing for a comforting view of parent, or forward-facing for checking out the road ahead
Includes Mico 30 Infant Car Seat
Designed by car seat safety experts, the Mico 30 provides superior comfort and safety from 5 to 30 pounds. It is one of the lightest infant car seats and easy for parents to carry with a contoured handle. The 5-point harness keep baby secure and comfortable, and the The Cozi-Dozi™ head insert provides extra support for infants.
Features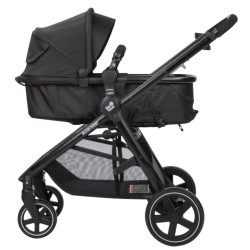 Choose your view
Choose between parent- or world- facing views in carriage mode; In stroller mode the seat is designed to recline for comfort in both directions.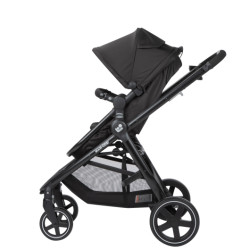 Adjustable handle height
Customized your preferred height for a more comfortable stroll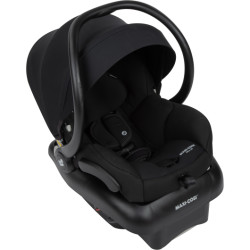 Cozi-Dozi infant supports
Comfy cushions in stroller and car seat give smaller babies a snug fit and remove easily when no longer needed.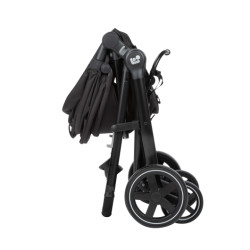 Handy storage
Extra-large basket fits larger items with easy access; parent cup holder included.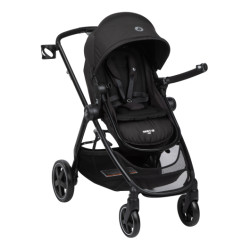 Larger seat
The larger seat gives your growing child more comfort.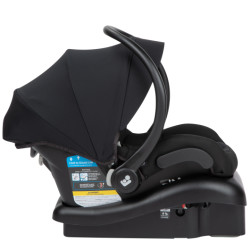 Lightweight and comfortable to carry
Contoured car seat handle curves around your hip for a more comfortable carry.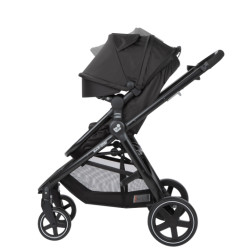 Full canopy coverage
The large canopy has a flip out visor for UV protection and a peek-a-boo window.